The Sketchbook Project – Half and Half: A Mother and Daughter Sketchbook Collaboration
For part of the 2017: My Year of Art Project I participated in The Sketchbook Project put on by the Brooklyn Art Library. When I had first got the project it was weird moment in my personal life. I was looking forward to working on the sketchbook. When I was looking at the suggested theme list, I saw the theme "Half and Half". I knew right then what this Sketchbook needed to be. It needed to be a collaboration between my 5 year old and me. So I titled it "Half and Half: A Mother and Daughter Sketchbook Collaboration."
My 5 year old is a budding artist herself and I am bringing her on this journey of art I am on. Lately I have been providing my daughter an opportunity to explore different art mediums as well. I recently gave her a small point and shoot camera and she took some great shots! So I knew this Sketchbook Project had to be by both of us.
For the Sketchbook I let her draw whatever she wanted on the left side. Then when she was complete with her part I drew on the right side the same topics. It wasn't as easy as I thought it would be and I have to say at first it was difficult for me to allow her to draw whatever she wanted. If she asked me I gave her some ideas but essentially the color choices and other elements were her own choices. It was a great experience and something I think we will both treasure.
Here are just a few examples of what we did: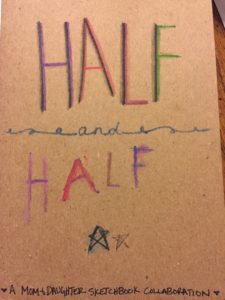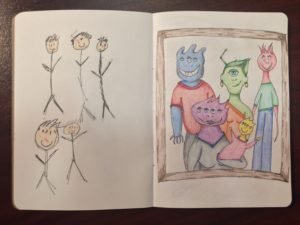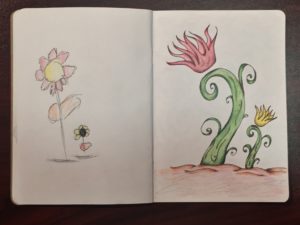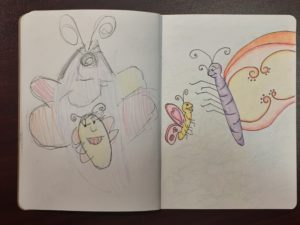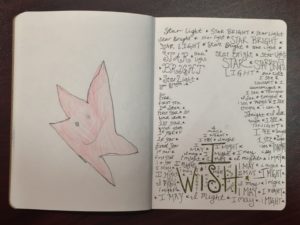 If you are interested in the Sketchbook Project check out their website at: https://www.sketchbookproject.com. They have other challenges and projects happening now .