Stretching Is Good for the Artist's Soul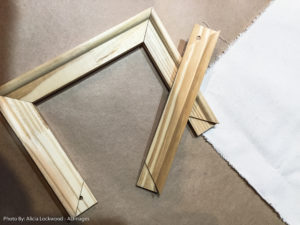 Part of my 2017: My Year of Art Project, I wanted to learn how to stretch my own canvases. My good friend, Valerie, learned how to stretch her own canvases when she went to college and has been excited to show me how to do it for quite sometime now. Now that we are in our studio space—oh my gosh! I don't have a blog post about that!—it is the perfect place for her to teach me.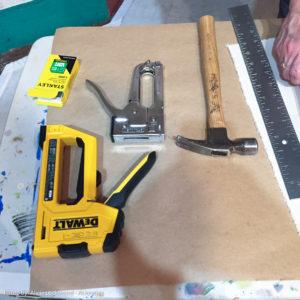 We've made it a point to come to the studio once a week. I will write about this studio soon! This week I wanted her to finally show me how to stretch my own canvas. On May 21st, we took a trip down to Las Vegas, which is about 1.5 hours south from where my studio is. We went to IKEA first, I had their meatballs for the first time—YUM!—but the main reason we went to Las Vegas was to go the Blick Art Materials store. Sure, we could've ordered through catalogue or online but sometimes you just have to go there in person to feel and touch the materials and experience shopping at a real art supply store. So with our new canvas making treasures we have set on a new path of stretching our own canvases.
I have to admit I was slightly worried due to the fact that I am not particularly the most crafty person. Although, I am working on that skill as well. But as Valerie began to show me the steps, tips and tricks, I was much more relaxed. She is an excellent teacher and explained the process very clear and on point, including reasons why it is done certain ways and she included anecdotes of her own experiences when she learned how to make them. She was captivating and enlightening.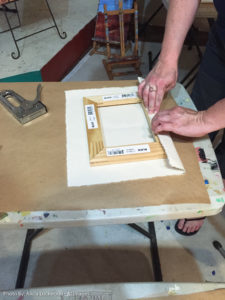 After a long busy week, both professionally and personally, it was such a great way to spend a Friday evening! The amazing rush and feeling that happens when you complete your canvas is inspiring. I could feel my creativity wanting to just spread itself onto that canvas. There is an incredible sense of pride. I believe that when I paint on those canvases that it is part of the artwork. Each staple I strategically place, each corner I carefully fold and the first stroke of gesso on the raw canvas is part of the art and the creative process.
If you are an artist, I suggest you try this process. I know it takes up a bit more time but for me it was incredibly relaxing. I know for myself I will be stretching my own canvases from here on out. Now, time to go paint!
Comment below: Do you like to stretch your own canvas?