Watercolor Class at Blue Raven Art Studio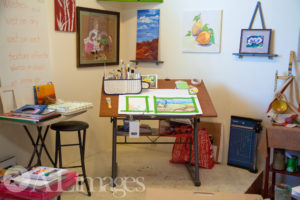 Part of the 2017: My Year of Art Project my goal is to learn new art mediums. Watercolor was my number one medium to learn. Pottery is on the list too but I'm not sure I will get to try it this year. You would think as fine artist I would have already learned Watercolor. This is somewhat true. For my 22nd birthday my Mom graciously bought me a set of Watercolors and some Watercolor paper. I bought a book to go along with it, but I am not one to learn from a book. I need in person instruction. So my few moments of attempting Watercolor was all the experience I had. I've dabbled recently with Watercolor pencils. I didn't learn the Watercolor medium at my college for my degree nor did I have time to tackle it on my own then.
When I began my journey at Blue Raven Art Studio I was fortunate to learn that it is also a teaching studio where any of the Artist-in-Residence can teach or arrange for the class. Caroll Shreeve, co-owner of Blue Raven, has taught many art classes there for all ages. I had asked some of my family and friends that if I were to arrange a beginning Watercolor class would they be interested in attending, the answer was "YES!" On August 19th, 2017 I was able to gather 8 people and Caroll taught us a beginning Watercolor class. It was a great experience!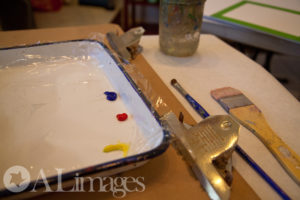 The classroom is in this room off the larger Artist-in-Residence area at Blue Raven Art Studio. There are small folding tables and folding chairs set up in two rows for each aspiring artist to sit at. There is a riser and a desk at the front of the room where Caroll does her instructions. The room is full of art for inspiration and reference. She also had a still life set up for us to paint if we wanted. For the class at each table Caroll had it set up with a board, a piece of paper to paint on, paint brush, water cup, and a tin for the paints.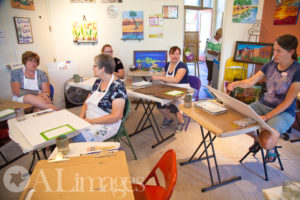 Caroll began by explaining what Watercolor was, different techniques and different paper that is used and how it is used. Then we got to practice on this small rectangle shaped paper where on the top we did wet on wet painting and the bottom we did dry on wet. We had the opportunity to see how each responded to the paint. It was quite fascinating. We then explored more by doing a painting of something that was a basic shape. Just to get the idea of how to handle objects against the background. It was interesting to feel the Watercolor go on the paper and push it around. I decided to paint a circle, more importantly, a pomegranate.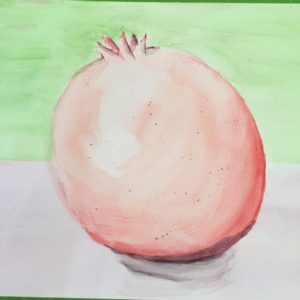 I had to keep reminding myself that it was light to dark and to keep the areas clear of where I wanted my white or highlights to be. It was definitely a more strategic way of painting. I feel when I do Oils and Acrylics I am more loose and less planning, where with the Watercolor, though it is fluid and light, I have to somewhat plan ahead and be careful to watch the colors to make sure they don't get muddy.
We took a nice lunch break outside. I was worried about the food so I may have over planned it but it was delicious. When we returned to the studio Caroll gave us a demo and few more tips on how to work with the color, brush and control. She suggested we look at something to paint. A few went outside and painted the trees. Some painted what they felt. I tried to be too creative and ambitious in my 2nd painting. I am definitely not going to share the debacle. (My 6 year old's painting was better!) Everyone did an amazing job. It was fun to see what everyone had chose to paint.
It was such a pleasure to take advantage of the teaching part of my studio and a joy to learn from Caroll. She made us feel at ease and gave us the confidence needed to tackle this medium.
I love being a part of the Blue Raven Art Studio as an Artist-In-Residence and have the opportunity to continue to learn from fellow artists. I am excited what more I can do with this medium and continue to do more for my 2017: My Year of Art project.